The Finer Points of Instruction in Building Background Knowledge
Many of us are now aware of the importance of background knowledge and vocabulary in comprehension. We have learned that comprehension is not a matter of learning a range of discrete skills that are practised and applied to other texts but of having an understanding of the concepts and vocabulary in texts and applying various cognitive strategies to interact with that text. 
Background knowledge is critical for inference (Stahl, 2014). For example, in the book, 'Go Go and the Silver shoes', Go Go loses her favourite shoe while on a picnic in the bush with her family. Days later, a new girl arrives at school who found Go Go's shoe at the beach. To really understand how the new girl came to be in possession of Go Go's shoe, children must understand how waterways work.   Furthermore, the ability to infer has been identified as a predictor of overall comprehension across all ages (Smith et al., 2021), so if we are to truly positively impact students' ability to connect deeply with text, we must help them build background knowledge. 
The challenge here is that we can't implement a general knowledge program in our classrooms and call the task done. Similarly, we can't only focus on the specific knowledge needed for particular texts and leave it there. Background knowledge is the total of all the knowledge and words we know. A subset of background knowledge is domain specific knowledge. That is, the knowledge we have about a particular area  (Smith et al., 2021). If you have ever attended a local trivia event, you will know that it is important to have well-developed levels of both general and domain specific knowledge. The same applies to our students and their reading comprehension. 
When it comes to supporting our students with the knowledge to infer about rich texts you are reading with them, it is important to ensure that the knowledge building experiences you provide hit the mark. This can be a bit hit and miss, depending on the topic, so I have ended up writing the non-fiction texts that align with the narrative text-based units that I have included in the Resource Room. Each unit comes with a range of non-fiction texts that specifically address the domain specific knowledge needed to be able to comprehend the text beyond the surface level. The image below is a read-aloud text that accompanies Go Go and the Silver Shoes.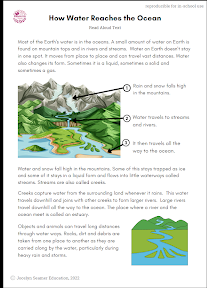 I recommend including knowledge rich texts with your text-based units rather than links to video clips to ensure that children have as much exposure to and interaction with a variety of texts as possible. In Years 3-6, having students read these texts as partner work provides additional minutes that students have eyes on a text, decoding for themselves and learning to comprehend longer non-fiction texts. It is only through supported interaction with more complex texts that students will develop their reading abilities. When this is done at the same time as you build knowledge of a text, you achieve two goals with one task. 
The question remains, "How do we build knowledge outside of a text-based unit?" The answer to that lies in a knowledge rich curriculum. Unfortunately for Australian students, the curriculum is written as a skills-based curriculum. This means that our humanities and science curricula are framed in a way that could be seen as encouraging inquiry learning rather than explicit instruction in knowledge and concepts. Of course, we want to provide hands-on, meaningful experiences for students, but we also need to be actively assisting children to build declarative knowledge. Despite the existence of Google, they need to be able to name the continents, describe the water cycle and state what year the Goldrush began. You can bring this to life in your classroom by sourcing or creating knowledge organisers for science, humanities, art etc., for your grade and then explicitly teaching this knowledge and following that up with informal quizzing and retrieval practice.   The explicit building of knowledge across the curriculum will support general reading comprehension as students progress through their school years. 
Knowledge building should not be an 'add-on' to teaching and learning but rather a central goal of work in our classrooms. Including rich, non-fiction texts across the curriculum will support your students to build their capacity in reading as they interact with more and more complex texts. 
Looking for text-based units that include knowledge building texts? The Resource Room might be for you. To learn more and access your trial, click here 
References: 
Smith.R., Snow, P., Serry, T., & Hammond, L. (2021) The Role of Background Knowledge in Reading Comprehension: A Critical Review, Reading Psychology, 42:3, 214-240, DOI: 10.1080/02702711.2021.1888348
Stahl, K. (2014). Fostering inference generation with emergent and novice readers FOSTERING INFERENCE GENERATION WITH EMERGENT AND NOVICE READERS. The Reading Teacher, 67(5), 384–388.